So Who Played Luke Skywalker in Star Wars?
Mark Hamill who played Luke Skywalker in the original Star Wars movies in 1977-1983 and is now set to reprise his role as an older Jedi Master in the upcoming new Star Wars movie Episode VII The Force Awakens released in December 2015.
9 Things You Didn't Know About who played Luke Skywalker

Mark Hamill had a car crash shortly after making the first movie which disfigured his face.





Luke Skywalker's new costume for Episode 7
See Luke Skywalker's new Jedi costume for Episode 7 The Force Awakens.  It looks very similar to Obi Wan Kenobi's costume.
Towards the end of filming Star Wars A New Hope in January 1977, Hamill was speeding in a BMW in southern California and had taken a wrong turn. He says he didn't realise how fast he was driving as he negotiated a ramp and crashed his car injuring his nose and cheek bone.
His nose had to be reconstructed in surgery and accounts for a visibly different appearance in The Empire Strikes Back. Hamill is seen with a larger, squatter nose than before.
Part of the Wampa scene in The Empire Strikes Back was changed to account for Hamill's different appearance in the story.
As well as the Star Wars movies, Mark Hamill who played Luke Skywalker also starred in Corvette Summer (1978), The Big Red One (1980), and Kingsman: The Secret Service (2015).
Mark Hamill is also well known for his voice acting, in particular a role he has played for many years since 1992 for the Joker in Batman: The Animated Series.
Hamill was born in Oakland, California and has 2 brothers and 4 sisters. He had to change schools frequently as a boy because his father was a captain in the Navy and changed stations.
Before Star Wars, Hamill had appeared in a few TV shows including General Hospital, and some TV movies. Hamill's friend Robert Englund (yes, Freddy Krueger) had seen auditions for Luke Skywalker and thought Hamill would be perfect for the role. Hamill signed up to the audition and won the part.
Because Star Wars was an unexpected enormous success, Hamill was keen to avoid being typecast and later appeared in comparatively low-budget films the most well known being The Big Red One. He then decided to act on Broadway during the 1980's until he returned to movies in 1989 with Slipstream. 
During the 1990's, aside from his voice acting work, Hamill almost fell into obscurity with his most high profile role arguably being Christopher Blair in the video games Wing Commander III: Heart of the Tiger, and Wing Commander IV: The Price of Freedom. Hamill will return in Star Citizen, another Chris Roberts video game.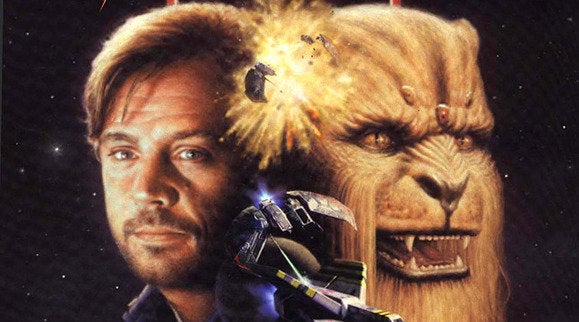 Hamill had since appeared in various TV shows and low-profile movies, until Disney announced their acquisition of Lucasfilm and their plans to make new Star Wars sequels involving Luke Skywalker and other characters from the original movies.
in 2015, Hamill played a role as an academic professor in Kingsman: The Secret Service, and later returned as Luke Skywalker in The Force Awakens after 22 years away from the role. Mark Hamill will also appear as Skywalker in Star Wars Episode VIII released in December 2017.
I love Star Wars and hope these new movies will be great and better than the prequel movies! I have also started a blog business and generate an income from blogging about my passion, to find out more click on the button below.