One of the big talking points resulting from the recent Star Wars The Force Awakens trailers, is the lack of appearance of Luke Skywalker.
What does it mean for the new Star Wars movies, the plot of which being kept a closely guarded secret.
However, Hamill recently spoke to the Famous Monsters of Filmland magazine for his first interview since filming began of the new Star wars movies.
Hamill summed up his feelings for Star Wars The Force Awakens :
"The new storyline, the new characters, and especially the actors that they chose to play them, are thrilling beyond words."
Hamill then expanded upon this in more detail :
"It is about setting up the next generation of heroes and villains, but the fact that half a dozen cast members from the originals can be there to place it in some sort of context, to be there for the historical side of things, I think it's wonderful. … Young people can see the progression of the characters. I'm old enough to be Luke's grandfather now, and that's a healthy, natural thing for people to see."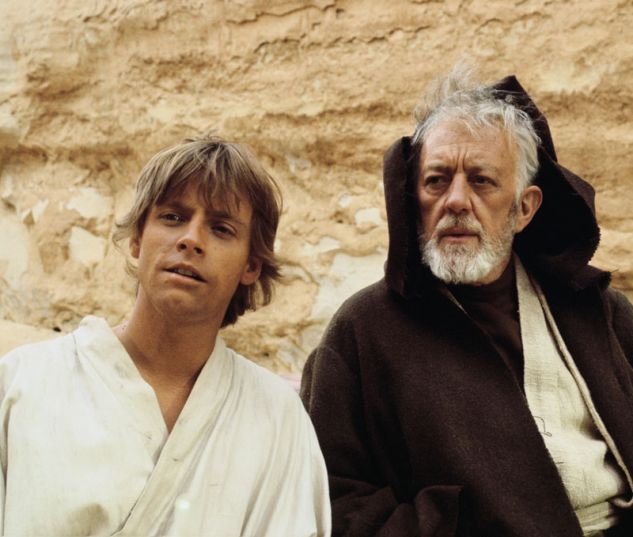 Hamill also commented on the fact he is now the same age as Alec Guiness was during filming of the first Star Wars movie:
"Intellectually, I know I'm the same age as Alec Guinness. Emotionally, I'm thinking, "Are you kidding me?!? I still like The Three Stooges and the Rolling Stones. How could I be old?"
If you were wondering about the Mark Hamill Age, the actor is currently 64 years old and was born September 25th 1951.
Because of legally binding documents, Hamill cannot reveal any plot details about the The Force Awakens, but he did reveal some information about the tone of the new movie:
"I think [THE FORCE AWAKENS] could be every bit as exciting for the audience, [but] it's not going to be like it was then, when we're rattling around in the Death Star, and exchanging quips, and jockeying for the affections of the princess. It's going to be age appropriate. The story has moved on, and our purpose in the story is different than it was then."
Earlier this week, Hamill also spoke to PC Gamer about Non-Disclosure Agreements and that he can't even confirm officially that he is in Episode 7!